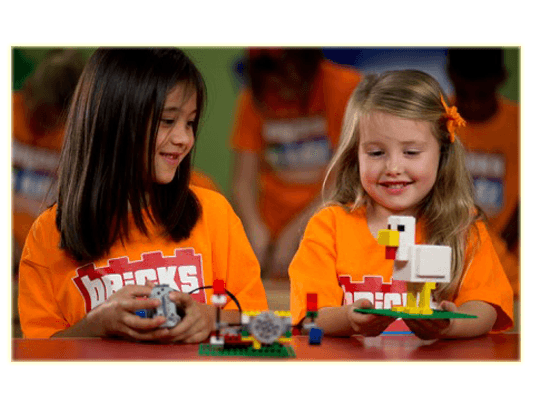 Bricks 4 Kidz® camps are a fresh and fun way for kids to spend their school or holiday break! Children will enjoy using LEGO® Bricks to build specially-designed models, play games, explore the world of engineering, architecture and movie-making.
View Classes/ Enroll Here
Bricks 4 Kidz® after-school classes build on the universal popularity of LEGO® Bricks to deliver high quality, educational play. Every class is a fun, enriching experience for your child, using the classic bricks loved by generations of children.
View Classes/ Enroll Here
A Bricks 4 Kidz® workshop uses LEGO® Bricks that kids love, to deliver hands-on lessons correlated to cross-disciplinary curriculum objectives. The Bricks 4 Kidz® approach to learning is imaginative, multi-sensory and fun, creating a dynamic learning experience for your students.
View Classes/ Enroll Here
Birthday Parties
Celebrate your child's birthday and build memories with a unique Bricks 4 Kidz® party experience. The timeless fun of LEGO® Bricks is sure to be a crowd pleaser for boys and girls from pre-school to pre-teen.
Experience our exciting Jr. Robotics and Advanced Robotics classes! Build a motorized model and watch it come to life using simple LEGO® WeDo® software. As your skills improve, advance to LEGO® EV3 Mindstorms® classes for more challenging robot-building and programming!
View Classes/ Enroll Here
We learn, we build, we play with LEGO® Bricks
Welcome! to Bricks4Kidz!!
Where Kids Learn, Build and 

Play…with Lego® Bricks!
We have landed in your area: Moorestown, Cherry Hill, Haddonfield, Haddon Heights, Barrington, Woodbury, Deptford, Glendora, Runnemede and surrounding areas in South Jersey!
**********
We are excited to offer your children ages 3 to 14, After School Programs, Birthday Parties, Camps, In-School Field Trips, and Workshops all over South Jersey!
All Programs are built around our proprietary model plans, designed by architects, engineers, scientists and teachers. We have exciting themes such as space, construction, amusement park rides, inventions, science and robotics using LEGOS® Theme builds. Our specially designed project kits and theme-based models provide the building blocks for the Bricks 4 Kidz® approach to educational play. At Bricks 4 Kidz®, we believe that kids learn best through activities which engage their curiosity and creativity. Our hands-on, project based curriculum introduces elementary aged children in grades pre K – 6 to concepts of engineering, architecture and mechanics using LEGO® bricks. Our team is committed to providing quality S.T.E.A.M. programming in a positive and collaborative learning environment. The activities are designed to trigger young children's lively imaginations and build their self-confidence and most importantly to have FUN!
*************
PTA, Teachers, Administrators & Parents>>> Call us today to customize the perfect program for your school, group, club or organization. 
Noni Boddie, MBA; MA
Owner/ Managing Director
(p)856-281-3100 (f)856-651-9207
nboddie@bricks4kidz.com
After School Enrichment • Preschool Classes • Field Trips• In-Classroom Workshops• School Breaks & Summer Camps • Birthday Parties• Parent's Nights Out• Church Youth Events• Wedding Reception Activities for the Kids• MORE!
We learn, we build, we play with LEGO® Bricks
Copyright © 2015 Bricks 4 Kidz. All rights reserved. PRIVACY POLICY | CORPORATE CONTACT
LEGO® and DUPLO® are registered trademarks of the LEGO® Group of companies which does not sponsor, authorize or endorse these programs or this web site.