Bricks 4 Kidz® after-school classes build on the universal popularity of LEGO® Bricks to deliver high quality, educational play. Every class is a fun, enriching experience for your child. B4K uses the latest Technic® bricks paired with electric motors to deliver a one of a kind educational experience. Students will Learn, Build & Play each week with themed months and new model builds weekly!
The B4K educational platform is designed for students to develop problem solving skills, communication & teamwork, follow instructions and increase critical thinking. This is achieved while students work with a team member to complete technical models through instruction booklets. Once completed students are challenged to modify without instructions.
All students start with easy model versions and graduate through difficulty levels (easy, medium, hard & very hard).
View Our Programs
We are excited to announce the start of our Pre-School Early Leaning Enrichment programs for Sept 2017. We applied the award winning B4K curriculum to standard pre-school curriculum to give you a world class learning experience, unlike anything else! Watch your preschoolers' eyes light up as they explore an array of brightly-colored DUPLO® Bricks! Engaging models based on a variety of themes, including the alphabet, animals and more are the building blocks of our Bricks 4 Kidz® pre-school curriculum.
Parents, do you want something different, something with no contracts, maybe only 1 or 2 days per week? Do you want a lower teacher to child ratio? Perhaps 1:6…. Would you like flexibility of morning  or afternoons? How about just one day because of a work meeting? This is the right program for you! Monday thru Friday, mornings only 8-12. Commit to the week or choose individual days. Flexibility, with world class curriculum, educated & passionate teachers at only $60 per week.
Letter recognition
Patterns
Colors
Counting
Fine and gross-motor skills
Position and ordering
Vocabulary
Comparing and contrasting
Problem Solving
View Our Programs
A Bricks 4 Kidz® workshop uses LEGO® Bricks that kids love, to deliver hands-on lessons correlated to cross-disciplinary curriculum objectives. The Bricks 4 Kidz® approach to learning is imaginative, multi-sensory and fun, creating a dynamic learning experience for your students.
Programs start at $3.10 per student and may be offered throughout the Lee & Charlotte areas. Please call (941) 525-3366 for more information.
View Our Programs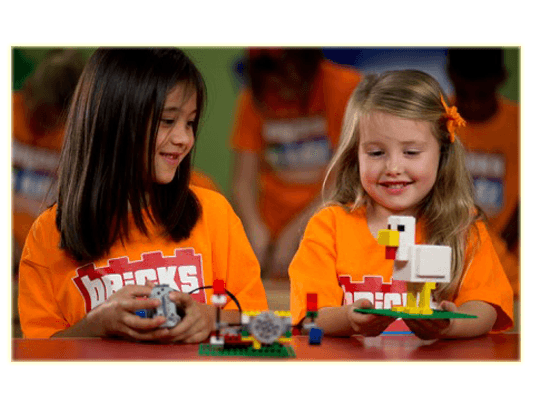 Bricks 4 Kidz® camps are a fresh and fun way for kids to spend their school or holiday break! Children will enjoy using LEGO® Bricks to build specially-designed models, play games, explore the world of engineering, architecture and movie-making.
Camps are Project Based Learning, structured and curriculum driven learning experience designed so the kids have fun! All students rotate every 1.5 hours through PBL stations. Lego Engineering, Movies, Robots, CAD, Free Build and Gaming will keep the kids on thier toes, moving and using thier brain as they build and problem solving throughout the day.
Upcoming day camps –
Sept 4th, Monday
Sept 21st, Thursday
Camp days = $60.00
View Our Programs
Celebrate and build memories with a unique Bricks 4 Kidz® party experience. The timeless fun of LEGO® Bricks is sure to be a crowd pleaser for boys and girls from pre-school to pre-teen.
Let B4K host your party at our location in Fort Myers, FL. Two hour parties start at $220.00. Choose from Lego Engineering, Junior Battle-Bots or Battle-Bots. Take over Bricks 4 Kidz and decorate for your party, the way you like! When its all done, Bricks 4 Kidz will clean it up.
See what B4K can offer your family
Bricks 4 Kidz offers many inexpensive options for students to experience Robotics & Software Programming! Robotics is offered as part of every camp experience. Our award winning Robotics programs are also mobile. If you are a teacher or administrator and wish to hold an event at your school, please contact us!
Ages 5 – 8 use our Junior Robotics platform to build custom creations paired with IR wireless controls. Ages 9 and up use our Mindstorm NXT 2.0 Robotics platform to build and program amazing creations.
Programs:
Standard Robotics – Focuses on the mechanics and building of different robots through the use of instruction booklets.
Advanced Robotics – Custom built robots with custom written software packages.
View Our Programs
Experience our exciting Jr. Robotics and Advanced Robotics classes! Build a motorized model and watch it come to life using simple LEGO® WeDo® software. As your skills improve, advance to LEGO® EV3 Mindstorms® classes for more challenging robot-building and programming!
View Our Programs
Home School Group Lessons
Lego Engineering Educational Classes emphasizing reading, comprehension,  problem solving, team work, listening skills and following auditor and written instructions. Online payments online, enroll in advance to secure your seat. Model Designer Class consist of educational PPT's designed to engage children to discuss the topic, quiz, instructional model build, model challenges and free build.
Open enrollment classes are scheduled for Tuesdays throughout the school year. Ages 5-13. Classes are 2 hours for $12.00. Look for " Model Designer" listed in schedules.
Coming soon, Introduction to Robotics. A 2 hour course dedicated to the art of building and programming.
Private groups are available by request.Please call (941 525-3366.
Battle - Bots
Battle – Bots (ages 5 & up) was developed as an exciting and social way for kidz to show what they can do! This competitive program matches the best  builders against each other in a team based, ultimate showdown of master builders!
Now held Saturdays during Mini Camps.
Saturday Mini Camps are designed to get kidz out of the house & interacting with other students in a safe and friendly environment.
Saturday Mini Camps – Selected Saturdays 12 – 4pm $25.00
*** Weekend events listed on our Facebook feed; click Home Page & scroll to bottom.
View Events
We learn, we build, we play with LEGO® Bricks
Bricks 4 Kidz
6225 Presidential Court Suit #110
Fort Myers FL,
33919
(239) 313-5129
text (941) 525-3366
BRICKS
4
KIDZ

®

F

lorida – Port Charlotte,

Fort Myers,

Punta Gorda,

& Cape Coral.
We are excited to offer Bricks 4 Kidz® to the children of Charlotte and Lee Counties.  The activities are designed to trigger young children's lively imaginations and build their self-confidence.  Bricks 4 Kidz® is a creative learning enterprise that provides an extraordinary atmosphere for students to build unique creations, play games, and have loads of fun playing with LEGO® bricks.  There are many educational, developmental and social benefits in our approach to learning.  These lessons are hidden in fun activities with options for every age level.  Through after-school programs, pre-school classes, in-school field trips and camps, students will experience hands-on engineering fundamentals as they build motorized models. We provide a curriculum that introduces children to engineering, architecture and scientific principles while important skills such as sequencing, following step-by-step directions and spacial/relational thinking are developed. Fine motor skills blossom as children pick up and assemble the many small bricks and gears.
Click Here to enroll or call (239) 313-5129.
We learn, we build, we play with LEGO® Bricks
Copyright © 2015 Bricks 4 Kidz. All rights reserved. PRIVACY POLICY | CORPORATE CONTACT
LEGO® and DUPLO® are registered trademarks of the LEGO® Group of companies which does not sponsor, authorize or endorse these programs or this web site.