Camps
 JULY 1 & 2 Camp Special
$19 Camp Days* — Special Pricing  for
July 1 & 2, 2015
Click Here to Register Now! >>>>  REGISTER FOR ONLY $19 PER 1 DAY SESSION NOW!!

Brick Building Mania Camp Description: Ages 6 -11, "Brick Building Mania" Camp. It's right before the holiday, and kids need a day out! They will have lots of fun building, some of our most favorite models using LEGO bricks, motors, battery packs, Remote controls and more. The day will be filled with building, games and lots of fun! But shhh! don't tell the kids, but they will be learning to! But that will be our secret!  Sign Up for one day or one session or all days and sessions!  Each session and day are unique builds using LEGO bricks, motors, battery backs, & remote controls.
* A camp day session is 3 hours long and may be for a morning session or an afternoon session.  You may register for both a morning and afternoon session, simply send a lunch with your child, and we will provide FREE lunch supervision.
What's Camp Like??  Lot's of FUN!!!  WATCH: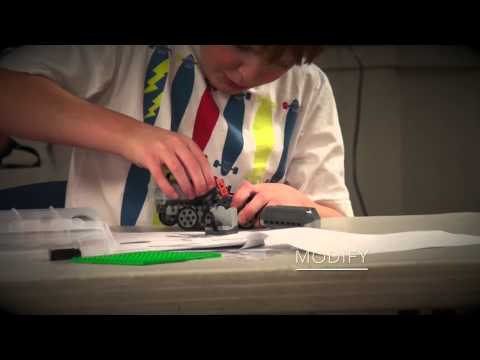 Dates: July 1 & 2, 2015 
Morning Session : 9am – 12pm
Afternoon Session: 1pm – 4pm
All Day Session: 9am – 4pm
Location: Stratford Community Building
810 Ball Ave NE
Grand Rapids, Mi 49503
Cost: $19 per one 1/2 Day Session
(May sign up for as many half day sessions as you like)
Space is LIMITED! So, space is only reserved upon reservation.
We reserve the right to cancel a camp if we do not meet the minimum number of students needed to run the camp, so please share this great deal with all your friends! Last day to register is 6/29/2015.
Click Here to Register >>>>  REGISTER FOR ONLY $19 PER 1 DAY SESSION NOW!!
2015  CAMP Information
CAMP INFORMATION:
Camps have Morning (AM) and Afternoon (PM) Sessions –3 hour sessions 
Most Camps are Monday – Thursday, unless indicated as a 3 or 5 day Camp.
ALL AM Sessions are from 9:00 AM to 12 Noon 
ALL PM Session are from 1:00 PM to 4:00 PM 
Campers should bring a mid-morning / mid-afternoon snack  each day (Sorry, but NO PEANUTS OR NUT PRODUCTS)
Full Day Sessions are from 9:00 AM to 4 PM, Camper will need to bring a Sack Lunch each day (Sorry, but NO PEANUTS OR NUT PRODUCTS ALLOWED)
All Campers receive a mini-figure and backpack to take home on the last day of camp. (Excludes 1 day campers)
2015 Camp Schedule Click  Below:
2015 Spring Break / Summer Camp Schedule:
 SPRING BREAK CAMPS:  Location:  East Grand Rapids Community Center  / 
                                                                                746 Lakeside Drive SE, E. Grand Rapids, Mi
| | | |
| --- | --- | --- |
| Camp Theme | Date(s) | Time |
| Mining & Crafting (Ages  6.5 -11) |  4/6 – 4/9 | 9am – 12noon |
| Jr Robotics  (Ages 8-13) |  4/6 – 4/9 | 1pm -4pm |
SPRING BREAK CAMPS:Location:  Stratford Community Building /
                                                                           810 Ball St NE, Grand Rapids
| | | |
| --- | --- | --- |
| Camp | Date(s) | Time |
| Amusement Park  (Ages 7-11) |  4/6 – 4/9 | 9am – 12noon |
| Star Wars  (Ages 6-11) |  4/6 – 4/9 | 1pm – 4pm |
SUMMER CAMPS: Location:  East Grand Rapids Community Center   /
                                                          746 Lakeside Drive SE, E. Grand Rapids , Mi   
| | | |
| --- | --- | --- |
| Camp | Date(s) | Time |
| Jr Engineers (Cars, Trains & Automobiles)  ( Ages 4.5-6.5)  | 8/10 – 8/13 | 1:30p-4pm |
| Super Heroes (Ages 6-11) |  7/6 -7/9 | 9am – 12noon |
| Amusement Park (Ages 7-11 )  |  7/6 -7/9 | 1pm -4pm |
| Movie Making Camp (Ages 9+) | 6/29 – 7/3 | 9am – 12noon |
| Jr Robotics (Ages 8 -13) |  6/29 -7/2 | 1pm -4pm |
| ADVANCED Jr Robotics (Ages 10 -13) |  8/10 – 8/14 | 9am – 12noon |
| Clash for Bricks (Based On Clash for Clans) (Ages 7 -12) |  6/22 -6/25 | 9am – 12noon |
| Star Wars (Ages 6-11) | 6/22 – 25 | 1pm -4pm |
| Mining and Crafting (Based on Minecraft) (Ages 6.5-11) | 6/15 – 6/18 | 9am – 12noon |
| Everything is Awesome Camp (Ages 6-11) | 6/15 – 6/18 | 1pm -4pm |

SUMMER CAMPS: Location:  Forest Hills Northern Trails 5/6 School /
                                                        3777 Leonard Street NE, Grand Rapid, Mi
| | | |
| --- | --- | --- |
| Camp | Date(s) | Time |
| Jr Engineers (Cars, Trains & Automobiles)  (Ages 4.5-6.5) pm |  7/27 – 7/30 | 9am – 11:30am |
| Super Heroes (Ages 6-11) |  7/13 – 7/16 | 9am – 12noon |
| Amusement Park (Ages 7-11 )   |  8/3 – 8/6 | 9am – 12noon |
| Movie Making Camp (Ages 9+) |  7/6 – 7/9 | 8:30am – 12:15pm |
| Jr Robotics (Ages 8 -13) |  6/22 – 6/25 | 9am – 12noon |
| ADVANCED Jr Robotics (Ages 10 -13) | 8/3 – 8/6 | 8:30am – 12:15pm |
| Clash for Bricks (Based On Clash for Clans) (Ages 7-12) | 7/13 -7/16 | 9am – 12noon |
| Mining and Crafting (Based on Minecraft) am (ages 6.5 -11) | 7/27 -7/30 | 9am – 12noon |

SUMMER CAMPS:  Location:     Grandville Schools /
                                                           LOCATION: TBD , Grandville, Mi
| | | |
| --- | --- | --- |
| Camp | Date(s) | Time |
| Jr Engineers (Cars, Trains & Automobiles)  (Ages 4.5-6.5) pm |  8/3 – 8/6 |  1:30pm – 4pm |
| Super Heroes (Ages 6-11) | 8/3 – 8/6 |  9am – 12noon |
| Movie Making Camp (Ages 9+) |  7/13 – 7/17 |  9am – 12noon |
| Jr Robotics (Ages 8 -13) |  7/13 – 7/16 | 1pm -4pm  |
| Clash for Bricks (Based On Clash for Clans) Ages (7 -12) | 7/20 – 7/23 |  9am – 12noon |
| Star Wars (Ages 6-11) | 7/20 – 7/23 | 1pm -4pm  |
| Mining and Crafting (Based on Minecraft) am (Ages 6.5 -11) | 7/6 – 7/9 |  9am – 12noon |
| Everything is Awesome Camp (Ages 6-11) |  7/6 – 7/9 | 1pm -4pm  |
 Registration for Grandville Camps will not open until April or May 2015.  Please check Grandville Community Education                                               
SUMMER CAMPS: Location: Rockford - North Rockford Middle School /
                                                         397 E Division St, Rockford, Mi
Camp

Date(s)

Time

Jr Engineers (Cars, Trains & Automobiles)  (Ages 4.5-6.5) pm

7/13 – 7/16

2pm – 4pm

Super Heroes (Ages 6-11)

6/22 – 6/25

 9am – 12noon

Amusement Park (Ages 7-11 ) 

 6/22 – 6/25

1pm -4pm 

Movie Making Camp (Ages 9+)

 7/20 – 7/24

 9am – 12noon

Jr Robotics (Ages 8 -13)

 7/20 – 7/23

1pm -4pm 

Clash for Bricks (Based On Clash for Clans) (Ages 7-11)

7/27 – 7/30

 9am – 12noon

Star Wars (Ages 6-11)

7/27 – 7/30

1pm -4pm 

Mining and Crafting (Based on Minecraft) am (Ages 6.5 -11)

7/13 – 7/16

 9am – 12noon

Everything is Awesome Camp (Ages 6 -11)

 7/13 – 7/16

1pm -4pm 
                                           5535 School Avenue, Hudsonville, Mi
Camp

Date(s)

Time

Jr Engineers (Cars, Trains & Automobiles)  (Ages 4.5-6.5) pm

 7/6 – 7/9

1:30pm – 4pm

Super Heroes (Ages 6-11)

7/20 -7/23

 9am – 12noon

Amusement Park (Ages 7-11 ) 

7/20 – 7/23

1pm -4pm 

Movie Making Camp (Ages 9+)

7/27 – 7/31

 9am – 12noon

Jr Robotics (Ages 8 -13)

7/27 – 7/30 

1pm -4pm 

Clash for Bricks (Based On Clash for Clans) (Ages 7-12)

6/15 – 6/18

 9am – 12noon

Star Wars (age 6-11)

6/15 – 6/18

1pm -4pm 

Mining and Crafting (Based on Minecraft) (Ages 6.5-11)

6/29 – 7/1

 9am – 12noon

Everything is Awesome Camp (ages 6-11)

 6/29 – 7/1

1pm -4pm 
SUMMER CAMPS: Location:   Wayland Schools Steeby Elementary, /
                                                          435 E Superior St, Wayland, Mi 
| | | |
| --- | --- | --- |
| Camp | Date(s) | Time |
| Jr Engineers (Cars, Trains & Automobiles)  (Ages 4.5-6.5) | 8/17 – 8/20 | 1:30pm – 4pm |
| Super Heroes (Ages 6-11) |  8/10 – 8/13 |  9am – 12noon |
| Amusement Park (Ages 7-11 )  |  8/10 – 8/13  | 1pm -4pm  |
| Jr Robotics (Ages 8 -13) |  8/17 – 8/20 | 1pm -4pm  |
| Clash for Bricks (Based On Clash for Clans) (Ages 7-11) | 6/29 – 7/1 |  9am – 12noon |
| Star Wars (Ages -6-11) | 6/29 – 7/1 | 1pm -4pm  |